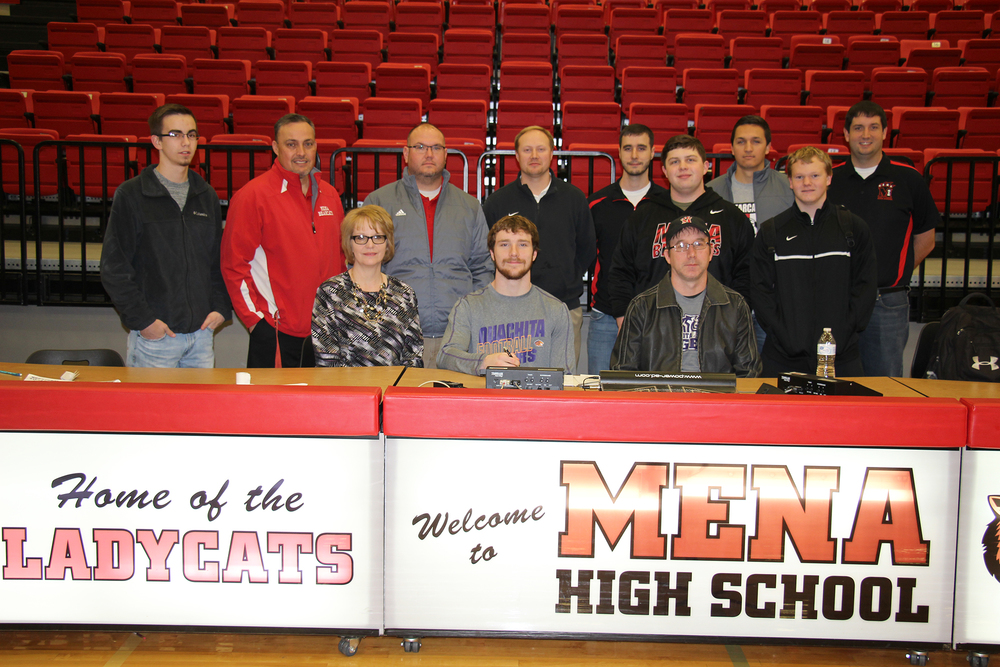 Dean Signs Letter of Intent with OBU
Andy Philpot
Wednesday, February 07, 2018
Dean Signs Letter of Intent with OBU
MENA, AR – February 7, 2018 – Mena High School Senior Justin Dean signed his letter of intent this morning to attend Ouachita Baptist University, staring this fall, with a commitment of playing football for the OBU Tigers. Wednesday, February 7, is National Signing Day across America, which is traditionally the first day that a high school senior can sign a binding letter of intent with a school that is a member of the National Collegiate Athletic Association (NCAA). OBU is located in Arkadelphia, Arkansas, and is a Division II school within the NCAA.
Dean has been offered a scholarship by OBU, comprised of both academic and athletic offers. The average cost per year to attend OBU is just under $35,000.
While multiple schools reached out and showed interest in Dean during his senior year at MHS, Dean narrowed his list down to 3-4 schools for serious consideration. Dean attended a football camp at the OBU campus during the summer of 2017, and it was then he felt the recruitment and interest officially began. While all of the schools he considered were within the state of Arkansas, the more that time passed, the more OBU rose to the top of his list.
"Some schools contacted me once, but I didn't hear from them again," Dean said. "The staff at OBU was checking on me weekly, seeing how I was doing, and that meant a lot to me. The overall program also attracted me to it. The players and coaches all hold each other accountable, and they all want to be the best that they can. I want to be part of that."
Dean will graduate from MHS this May, and he is looking forward to meeting and working with his new teammates at OBU. According to Dean, he's excited about bonding with the players that will be his brothers for the next four years.
Dean began his football career in third grade, and he has been a starter on every team he's been a part of thus far.
As Dean signed his letter of intent this morning, he was surrounded by his football teammates, coaches, friends, and his parents. Justin is the son of Matt and Janet Dean.