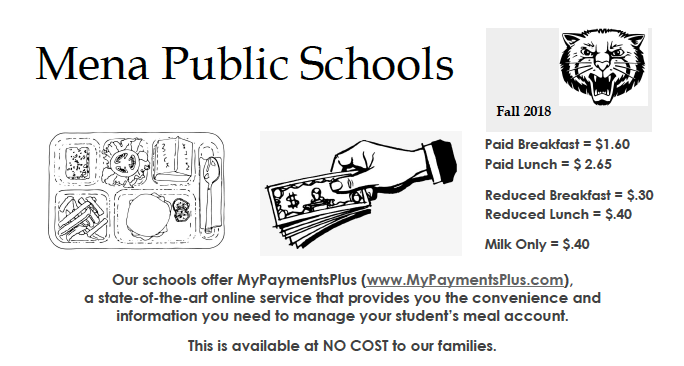 Lunch Account Opportunities
Mena Public Schools
Tuesday, June 05, 2018
MyPaymentsPlus allows:
• A free, secured account to manage studentaccounts
• A way to check your student's account balance 24/7 online or via 1-877-237-0946
• Ability to monitor the items your student is purchasing
We strongly encourage all parents to create an account at no cost to you!
Simply log in and click on "register now".
MyPaymentsPlus also allows:
• Opportunity to create settings to receive email notifications
• Download the FREE mobile app
For a small fee, you may make a prepayment into your student's meal account using an echeck, credit card, or debit card.
Please consider monitoring your child's meal account through MyPaymentsPlus.com
If you have free or reduced meal application questions, please contact Sherry Newman,
479-394-1710, sherry.newman@menaschools.org