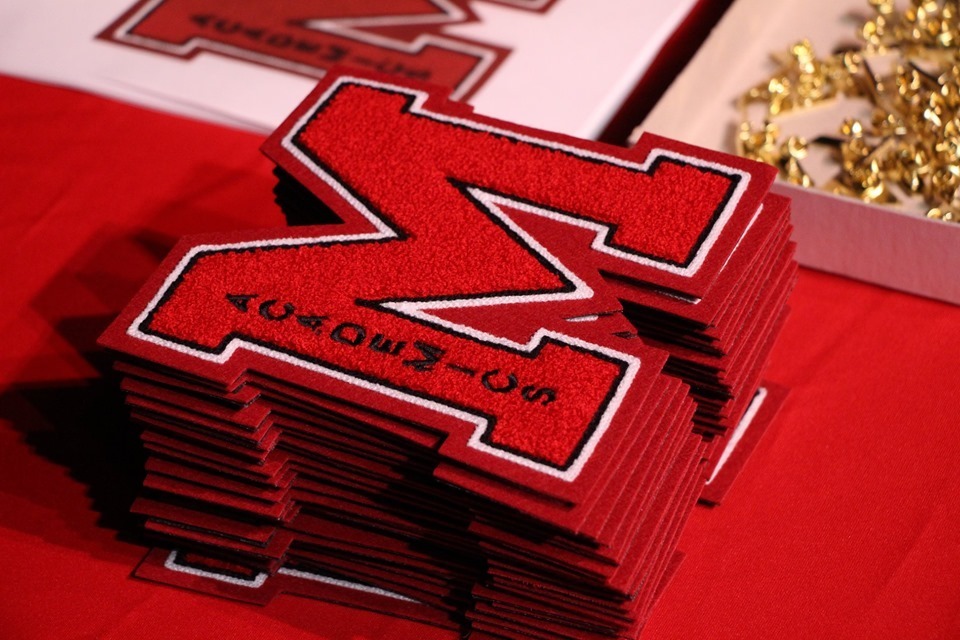 MHS ACADEMIC REWARDS!
Mark Hobson
Friday, May 17, 2019
Mena High School held their 2019 Academic Honors Assembly tonight at the Performing Arts Center. Among the many honors and awards recognized tonight, students received their Academic Letters and Academic Bars for their GPA achievements. Among those receiving their letters and bars tonight were the following:
Academic Letters: Jaci Allen, Abbie Alvarez, Cassidy Ashcraft, Brenna Aynes, Zion Barnes, Allison Bates, Tristan Beck, Katie Benefield, Chris Bollmeyer, Brendon Catlett, Samuel Cross, Devon Davis, William Davis, Whitney Dilbert, Cara Driggers, Paige Evans, Jacob Flowers, Christina Gragg, Andrew Graves, Daniel Green, Sarah Grenier, Maddi Gunn, Alexis Harper, Connor Harvey, Breeanna Hendrix, Ariana Hicks, Ethan Holloway, Gavin Hooper, Cauy House, Esmeralda Johnson, Julianna Kennedy, Chumporn Leesauavanich, Emily Liles, Summer Loar, Katlin Looney, Andrea Maechler, Davie McDonald, Levi McIntyre, Robert McIntyre, Zoe McPherson, Jaiden Milam, Luke Montgomery, Alexis Payne, Austin Rose, Greg Smallwood, Carleigh Smart, Itthinun Thangsombat, Annika Thompson, Kaitlyn Titsworth, Alexis Williams, Rachel Wilson, Ally Wright, and Alex Young.
1st Bar: Abbie Baker, Matthew Bowser, Cadie Cannon, Cason Cannon, Blake Castor, London Copelin, Ivy Curtis, Andrew Davis, Leilani Day, Brandon Deramus, Amber Devries, Makori Gabourel, Jonny Gunn, Shylee Head, Cori Hilton, Vivie Hooper, Ciara Lance, Abby Langin, Tabitha Levering, Maddi Lyle, Lauryn Maechler, Allie Martin, Mackenzie McAllister, Max Montgomery, Caroline Morgan, Thaddaeus Nance, Fisher Neufeld, Morgan Puckett, Suzie Rivera, Lauren Sikes, Ashlyn Sikes, Emiley Sorge, Chloe Speight, Emily Wagner, and Hannah Willis.
2nd Bar: Jennifer Adams, Braxton Bahr, Jada Bass, Faith Chaney, Teresa Cude, Cassidy Delaney, Marissa Grafton, David Grenier, Caleb Holmes, Lindy Hull, Macie Johnson, Kiara Kesterson, Lindsey Logan, Autumn Powell, Cypriss Pruitt, Colton Sawyer, Kaitlyn Simmons, Chantal Sims, Skylar Smedley, Trevor Speight, Zane Stephens, Noah Swall, Tateli Thacker, and Marc Wilson.
3rd Bar: Sumer Brown, Daniel Davis, Shreetika Gynawali, Cooper Hughes, Hannah McDonald, Payton Medlin, Halie Standerfer, Christopher Thompson, and Torrey Voison.