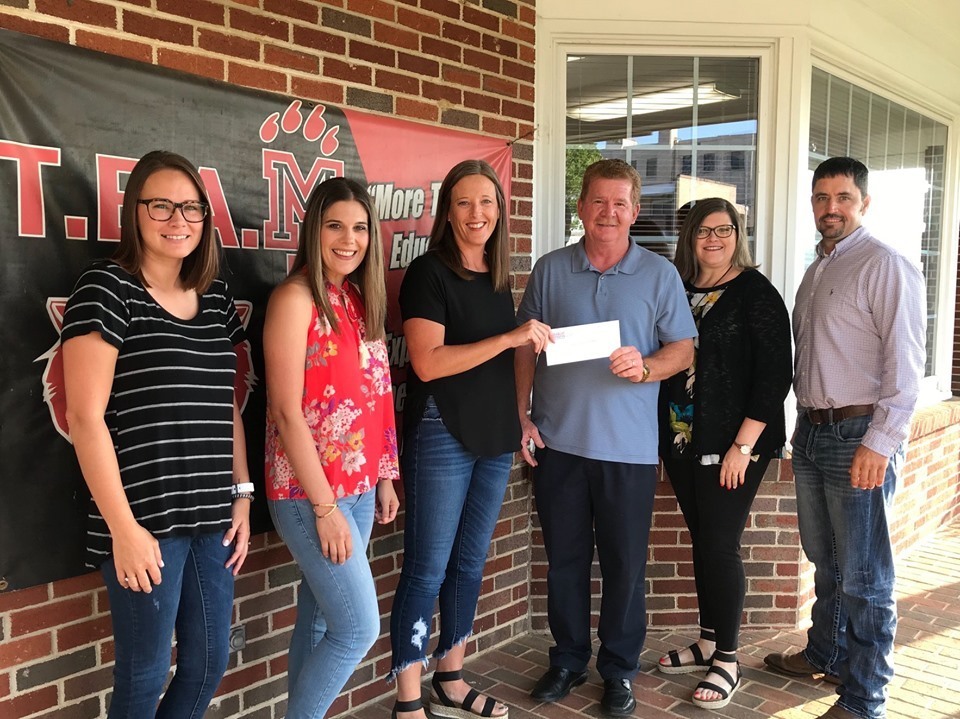 B.F.I. Makes Donation!
Mark Hobson
Tuesday, July 23, 2019
In 2016 Bearcat Foundation, Inc. partnered with Mena Public Schools to develop a consistent, new funding program for all 13 athletic programs from 7th-12th grade. This allows coaches to supplement their school budget for much needed student expenses. Every team receives funds generated from membership and fund raising dollars. These funds can be used for team needs such as skill camps, equipment, Hudl annual fees, Platform workout, etc. On average, BFI has paid out a total of $18,000 each year distributed among the various athletic programs.
In addition to the new funding BFI made a $125,000 capital improvement pledge to Mena Public Schools to be used for major facility/capital athletic improvements. To date BFI has donated $50,0000 for different needs over the last three years. BFI is now fulfilling the rest of the pledge by donating $75,179.83 to the Mena School District to be used toward stadium upgrades and improvements. Pictured above are BFI Board Members - Aarika Cox, Amy Hernandez, Gretchen Cannon, Mena Superintendent - Benny Weston, and BFI Board Members Mandy Godfrey and Ty Plunkett. This recent donation along with funds received from the Bob Carver Foundation and Union Bank will allow the district to modernize and provide safety upgrades to the Bob Carver Mena Bearcat Stadium.
BFI board is very excited to be able to support our school and athletic program by filling a need. Our hope is to increase our support each year but need continued support from fans, parents and community.
The Bearcat Foundation, Inc. was started in the summer of 2006 with a few simple hopes to help the Ladycats and Bearcats. BFI exists to support the student athletes and activities of the Mena School District by supporting programs, pursuing facility improvements and encouraging community spirit in an ultimate attempt to make our teams more competitive and increase moral, unity and school pride.
Please visit www.bearcatfoundation.com for more information on how you can help and join BFI. We need you! #bearcatproud