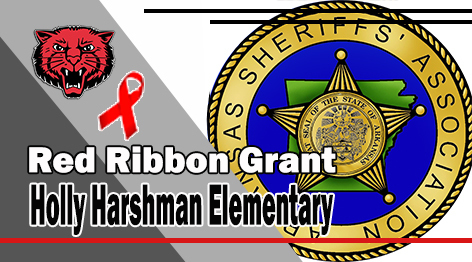 HHE Earns Red Ribbon Grant!
Mark Hobson
Thursday, October 15, 2020
Holly Harshman Elementary has been selected for the 2020 Arkansas Sheriffs' Association Red Ribbon Week Grant. Polk Co. Sheriff Scott Sawyer will be sent the check in the amount of $1500 that he will present to HHE on Monday, October 26 at 830 am.
Holly Harshman Elementary Red Ribbon Week Oct. 26-30, 2020.
Monday, Oct. 26- Follow Your Dreams & Stay Drug Free!
Say goodnight to drugs by wearing pajamas to school.
Tuesday, Oct. 27- Team Up Against Drugs
Dress up as twins with your friend or friends OR Dress up as your favorite team.
Wednesday, Oct. 28-We are wild about being Drug-Free!
Wear wild hair and wild/mismatched clothes.
Thursday, Oct. 29- Drug-Free and Proud to be a Bearcat!
Dress in Bearcat School Colors.
Friday. Oct. 30-I'm too bright for drugs!!!
Wear Bright/Neon Colors.
Red Ribbon Week is focused on educating students about the dangers of drugs and alcohol and ways to say "NO!". The dress up days are a fun way of reinforcing what is being taught.