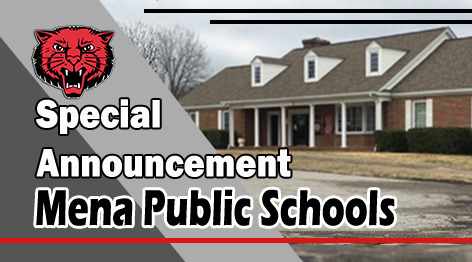 Covid Numbers Remain Low!
Mark Hobson
Wednesday, November 11, 2020
The Mena Public Schools would like to take this opportunity to put our patrons at ease & address recent rumors concerning Covid-19. We are aware of an increase of cases in the area. As of November 10th there are 7 positive cases involving staff & students. At this time there are no plans to close for an extended period of time unless we do not have enough adults to safely monitor students. If and when we reach that point, we will make the public aware through our normal communication methods.
Arkansas Department of Education Secretary Johnny Key addressed such rumors on Tuesday as a part of Governor Asa Hutchinson's daily Covid-19 Update. Key said "There is a rumor that the state might call off on-site instruction between Thanksgiving and the Christmas break. There is not a plan to do that, and it has not been suggested to the Governor."
You may check the ACHI School District Geographic Boundary Level Maps to see the trends for new positive COVID-19 cases for school districts. Just follow the link https://achi.net/covid19/