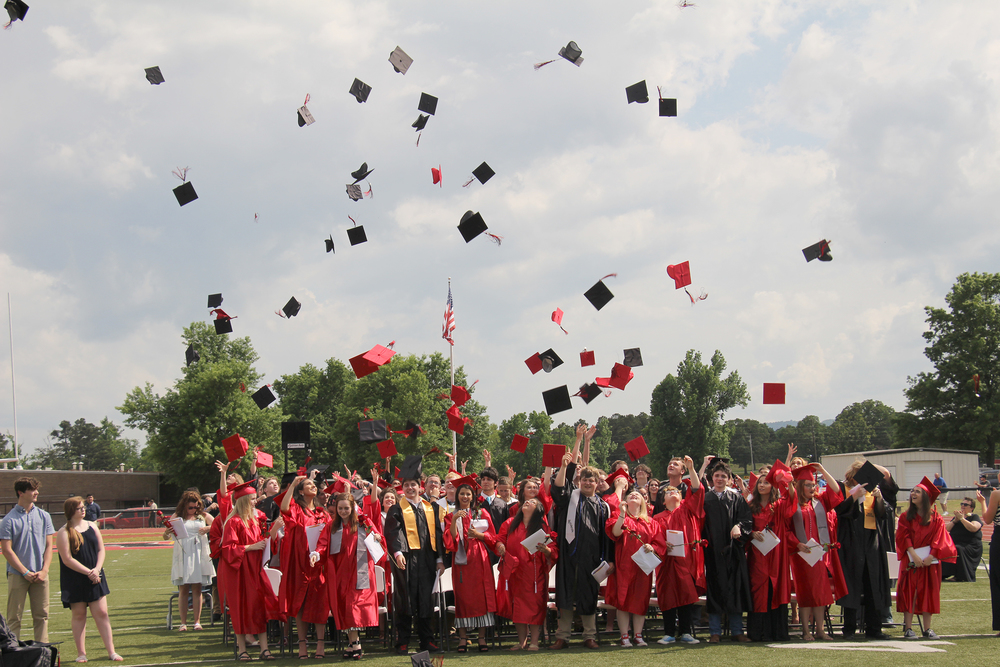 Mena High Schools celebrates 2018 graduates
Andy Philpot
Tuesday, May 22, 2018
The Mena High School Class of 2018 saw their 13-year public school journey come to a celebratory conclusion this past Sunday, May 20, as MHS held its graduation ceremony. For the second consecutive year, the weather has allowed for graduation to be held on the field of Bearcat Stadium, welcoming in an outpouring of family, friends, faculty, alumni, and community support.
The Class of 2018 marks the 110th graduating class in Mena High School's history, featuring 140 graduates on the roster to be recognized. Among these names was a tribute to Dakota Lee Michael Atkinson, who passed away in a car accident six years ago, when this class of students was in 6th grade. A chair was set up in is honor, with a graduation cap and gown draped on it to recognize him on what would have been his graduation day.
An opening prayer was said by Haley Montgomery, of the Fellowship of Christian Students, followed by the Pledge of Allegiance led by the eleven MHS Seniors who have enlisted into the military. The graduation speech was delivered by the duo of Seniors Cody Gee and Raychel Woody, followed by Senior Sarah Rose's vocal performance of the song How Does a Moment Last Forever.
MHS Counselor Pam Gross announced the 2018 graduates who have received scholarships, which included a list of 64 students, for a total offered value of $3,244,598. Of this year's graduates, 54% of the students have been offered scholarships toward their next step in their education careers.
Mena Public Schools Superintendent Benny Weston presented the names of the graduates, as Mena School Board President Robby Hines awarded the diplomas.