The Mena Ladycat Volleyball Team left campus this morning at 8:45 a.m., receiving a send-off by MHS, HHE, and MMS students, as they head to Batesville for the first round of the 4A State Tournament. Mena will face Harrisburg at 6:00 p.m. this evening at Southside High School.......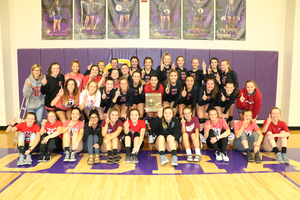 The Mena Ladycats Volleyball Team were crowned District Tournament Champions last Thursday night, after defeating the Booneville Lady Bearcats in the finals of the District Tournament 3-0. This year's District Tournament was played at Fountain Lake High School, the Ladycats defeated Fountain Lake, Arkadelphia, and Booneville on their way to winning the District Tourney......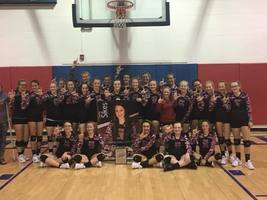 The Mena Junior Ladycats volleyball team traveled to Arkadelphia this past Saturday, October 14, for the District Tournament, and left as District Champions. This concludes the 2017 volleyball season for the Junior Ladycats. Eleven members of the team are now playing with the senior high Ladycats volleyball team, as they begin their District Tournament in Fountain Lake......