Summer School is COOL at Holly Harshman Elementary!! Making macarons, making slime, painting, reading about mermaids - can it get any better??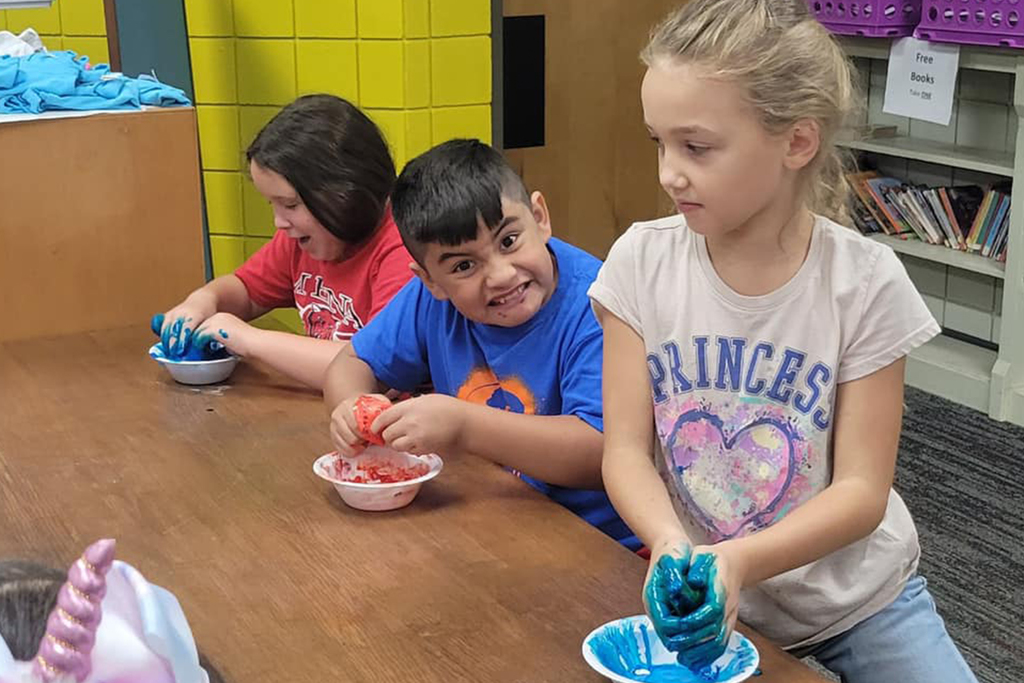 Please welcome CRYSTAL REED to our team at Mena Public Schools! My name is Crystal Reed. I'm so excited to be a part of the Mena High School Special Education Department this next school year. I have been working with students with special needs for the past year. I've lived in Mena for 9 years and previously lived in Hot Springs. My family consists of my husband John, my children, Kennedy, Cameron, and Dennison, and my grandchildren, Hadlee and Ila. I enjoy reading and spending time outdoors in my free time. I look forward to my new position with the Mena High School.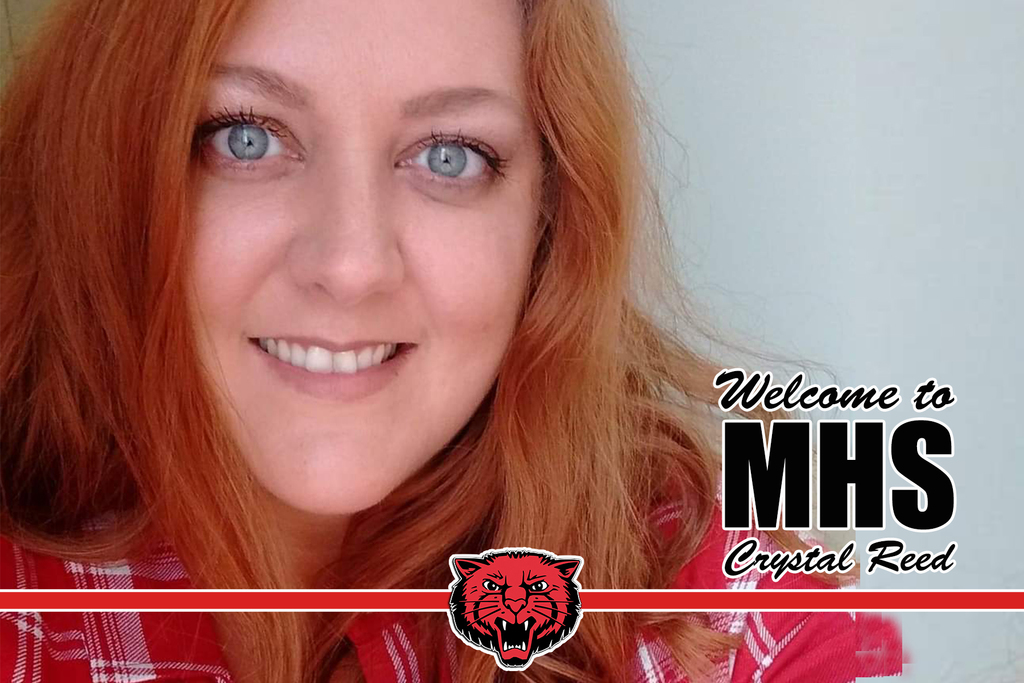 Mrs. Teresa Torix and a group of her students are on their way to Chicago for the FBLA National Leadership Conference. Students from across Arkansas & around the country are attending.
https://fbla-nlc.org/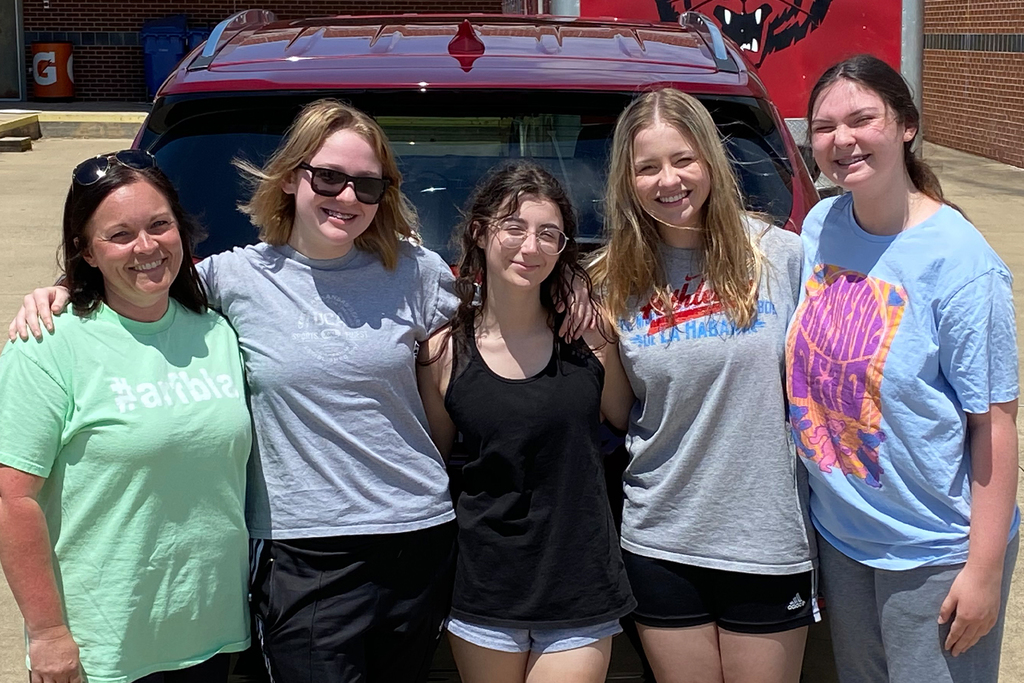 Please welcome REBECCA SPRAGUE to our team at Mena Public Schools !!! My name is Rebecca Sprague and I'm excited to be joining the Louise Durham Elementary teaching team as a special education teacher. I've taught in the general education kindergarten classroom, K-6 special education, and early intervention settings for the past 14 years. My family of five enjoys spending time outside camping, fishing, hunting, and baseball. I love to read, crochet, and spend time with my family. I grew up on a farm outside of Mena and I look forward to giving back to a school district that provided my K-12 foundation in education. I can't wait to meet everyone and be a part of this thriving community of educators, learners, families, and supporters.

Mena Counselors Delivered over 300 pounds of can tabs to the Arkansas School Counselors Summer Conference today. Tabs were donated this past school year to benefit the Ronald McDonald House. Thank you to all who helped by donating!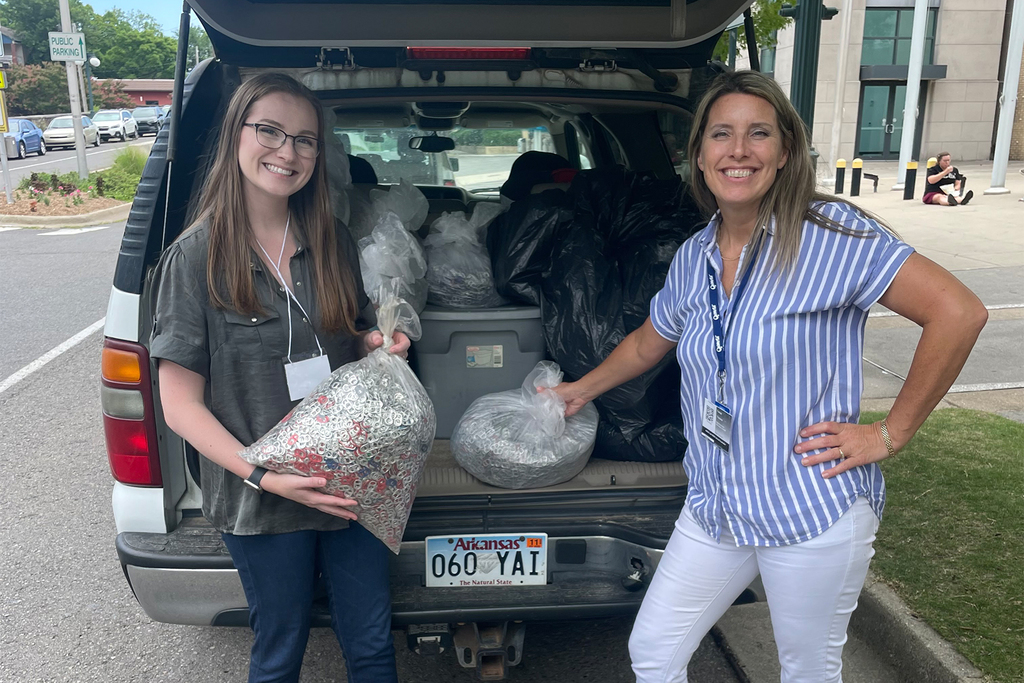 Congratulations to Mena High School 2010 alumnus RYAN MATEJEK ! Mr. Ryan Matejek, a graduate of Arkansas Tech University, will join ATU as instructor of tuba this fall. He is currently completing his course work for a Doctorate of Musical Arts in tuba performance at Arizona State University. He also holds a Masters Degree in tuba performance from the University of Missouri.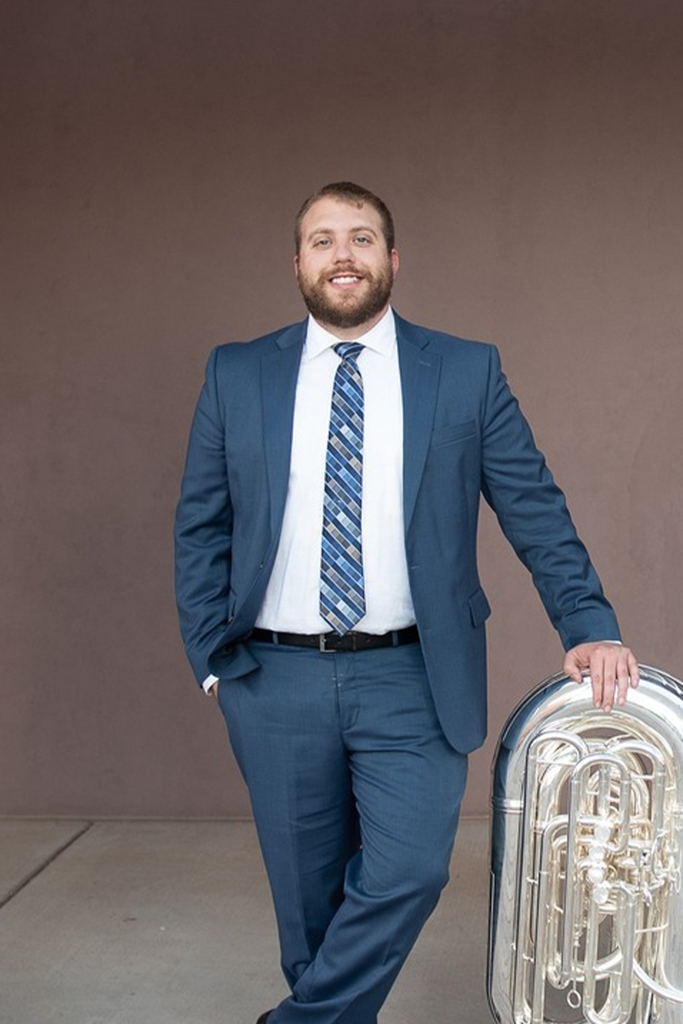 The Mena Public Schools are happy to welcome JAMIE COPELIN to our staff at Louise Durham Elementary! Hello everyone, my name is Jamie Copelin and I am so excited to be joining Mena Public Schools. My husband and I are long time Mena residents and Bearcat fans! We have a son in college, twins in 4th grade, and a mini poodle fur baby that is very spoiled and likes to travel with us. I keep myself busy with a love of crafts, camping with the family, and whatever new adventure is on our calendar. I am very blessed to be living in a community where my children can grow and learn good values and character. I have spent many years working with children either in school or church and look forward to continuing that passion at Louise Durham Elementary.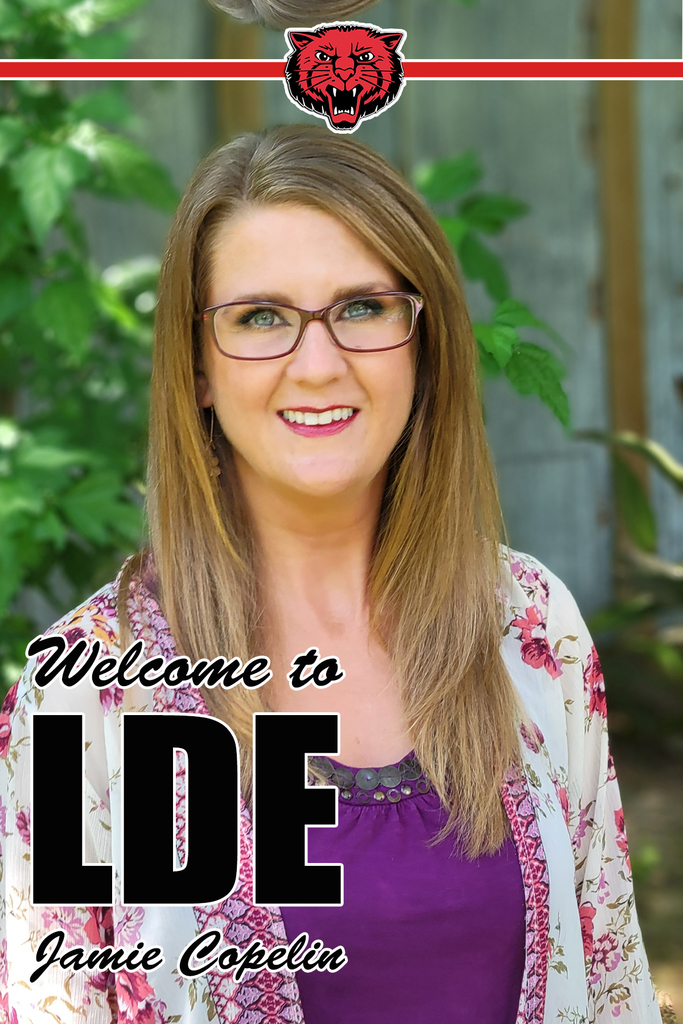 The Mena Public Schools are pleased to welcome AVANLEA CHANEY to our staff for 2022/2023 ! Hi my name is Avanlea Chaney. I will be joining Louise Durham Elementary this upcoming school year as the new School Counselor. I grew up in Mena, AR and recently moved back after being in Conway, AR for five years. My husband, David and I bought our first home and are excited to be back! I graduated in 2019 from the University of Central Arkansas with my bachelor's degree in family consumer science while also receiving an art minor. I continued my education at the University of Arkansas Fayetteville for my master's degree in human environmental science, but recently transferred back to UCA to pursue my degree in school counseling. I have worked closely with children and families in my career through the Department of Children and Family Services, Families Inc. School Based Counseling Services, Youth Home, and the U of A Cooperative Extension Services in 4-H Youth and Development. I am passionate about helping children and families thrive by guiding the way towards a brighter future and am excited to see how I can make a difference in this new position.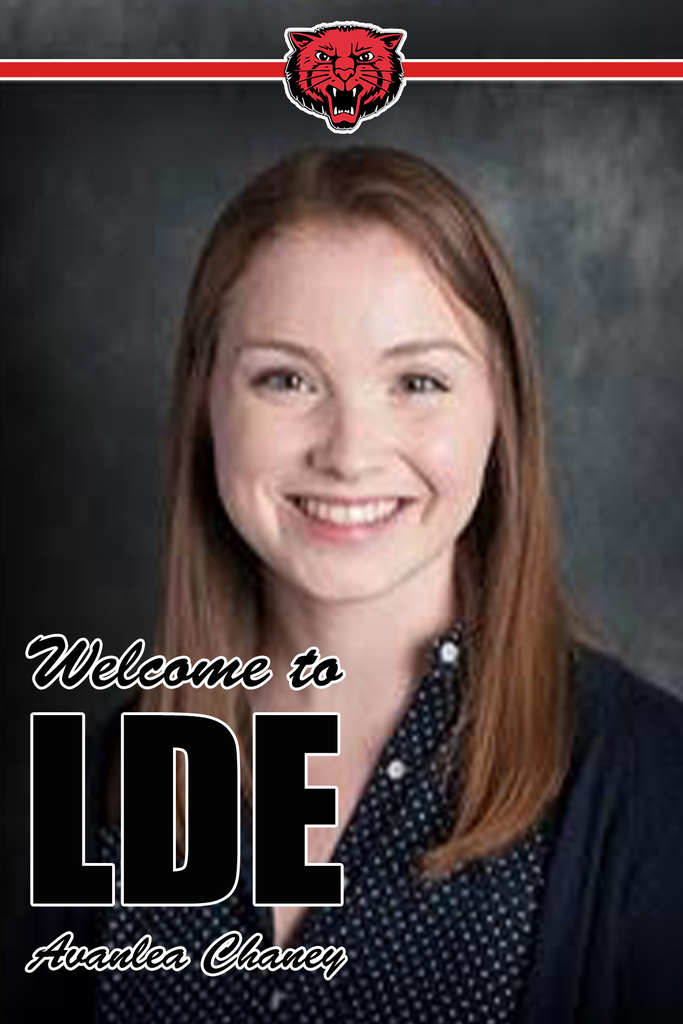 The Mena Little Cats Basketball Camp came to a close on Friday at the Union Bank Center. There were smiles all around as awards were given for their hard work this week. GO BEARCATS!!!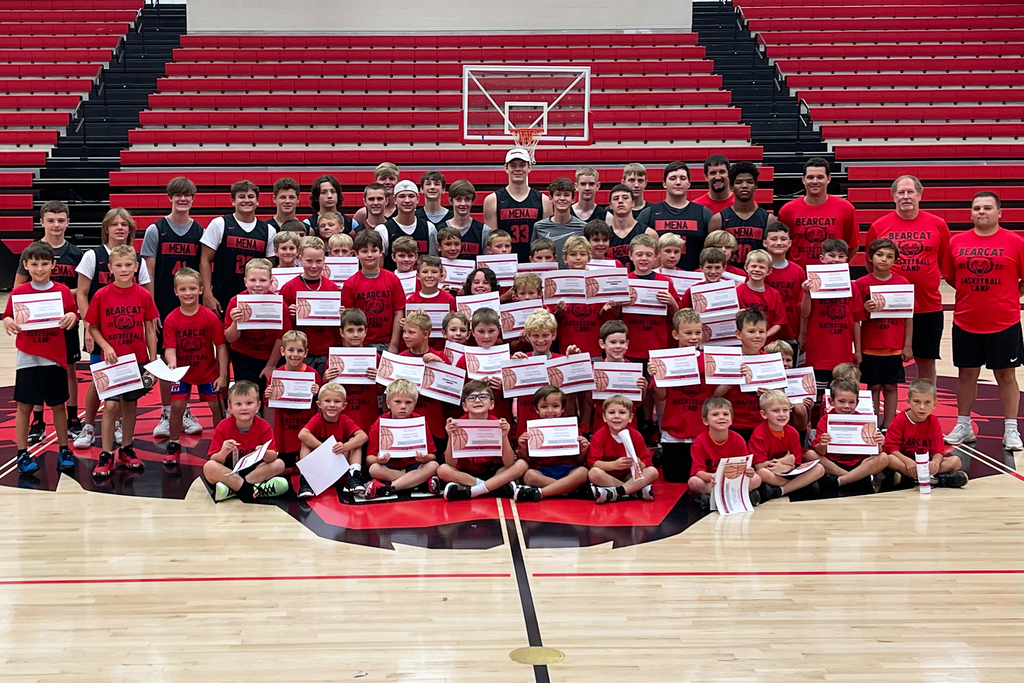 The Mena Public Schools are excited to welcome MEGAN AUER to our staff! Hi! My name is Megan Auer. I will be teaching 2nd grade at Louise Durham this coming school year! I earned my Bachelor's degree in Elemenatry Education from Northeastern State University and my Master's Degree in Curriculum and Instruction from William Woods University. I have taught for 14 years, teaching kindergarten, first grade and second grade. Chad and I have been married for 18 years. We have two sons and one daughter. In my free time I enjoying gardening, camping and family movie/game nights. I am thrilled to be apart of Mena Public Schools family!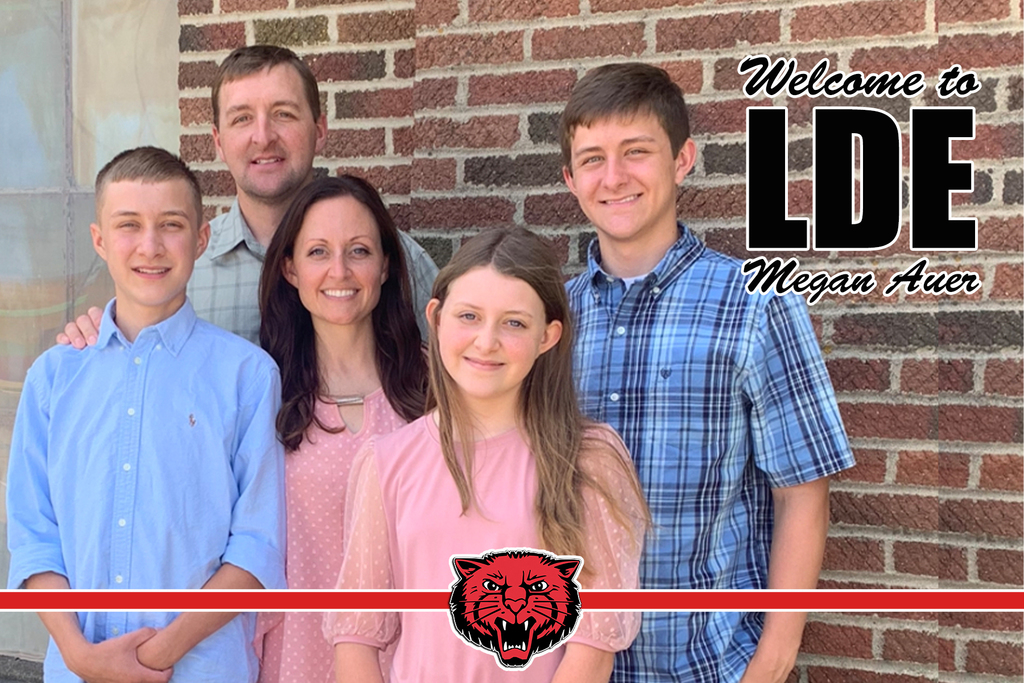 Kitchen Chemistry Camp ! Mrs. Frost did an outstanding job guiding students of the proper use of knives. All students successfully sliced their own lemons for the lemon volcanoes. Once sliced, each student added a few kitchen ingredients, which resulted in a beautiful chemical reaction. That beauty was then captured on paper by making lemon prints. The finale of the week was creating their very own "Slush-ees". It took a lot of patience while waiting for the "Slush" to occur but they were well worth the wait!!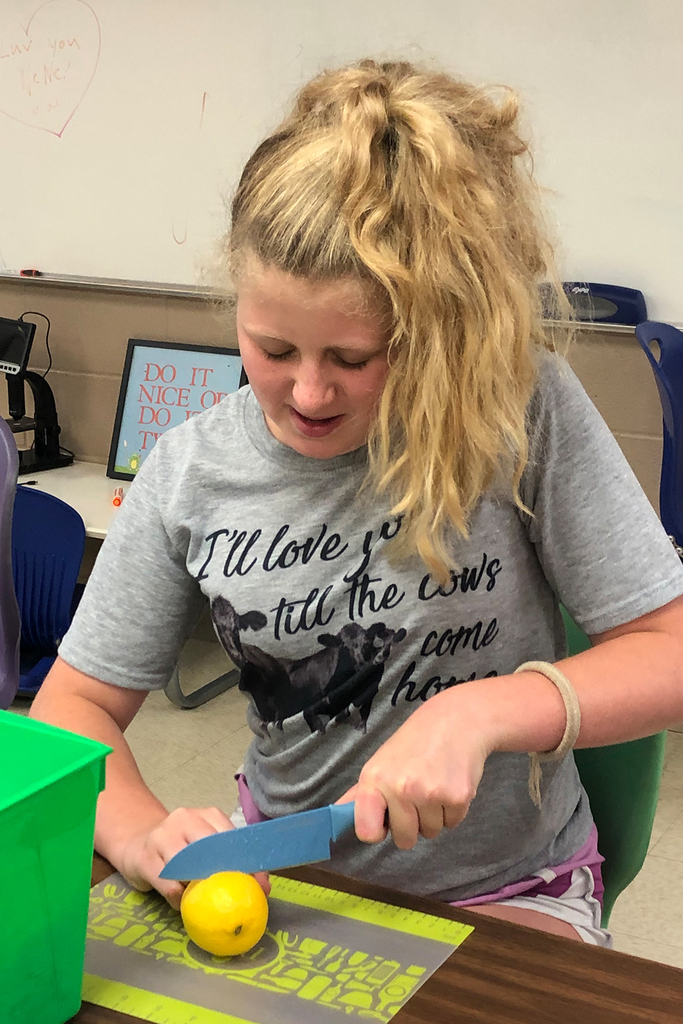 Day two was tough for the Mena Bass Cats at the13th annual High School Fishing World Finals and National Championship. Austin Rose & Jarett Burger weighed in one fish weighing 2 pounds 9 ounces for a two day total of 10 pounds 13 ounces.
https://highschoolfishing.org/13th-annual-hsfwfnc-home/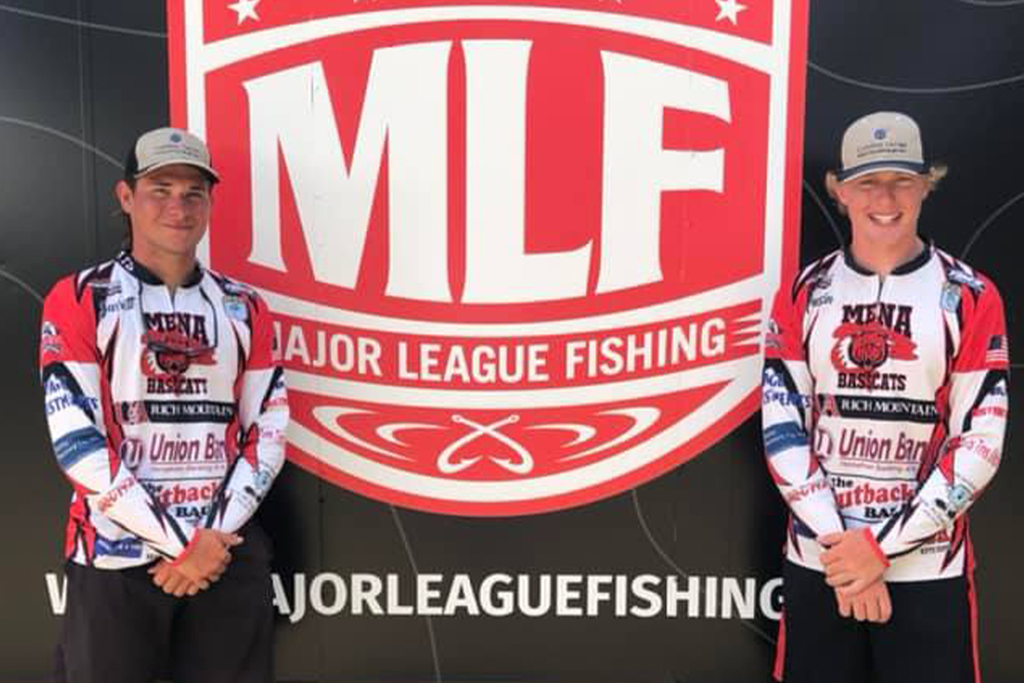 The THRIVE Academy launched this week with educators learning how to implement multi-tiered systems of support for behavior and mental health. The Mena Public Schools were well represented!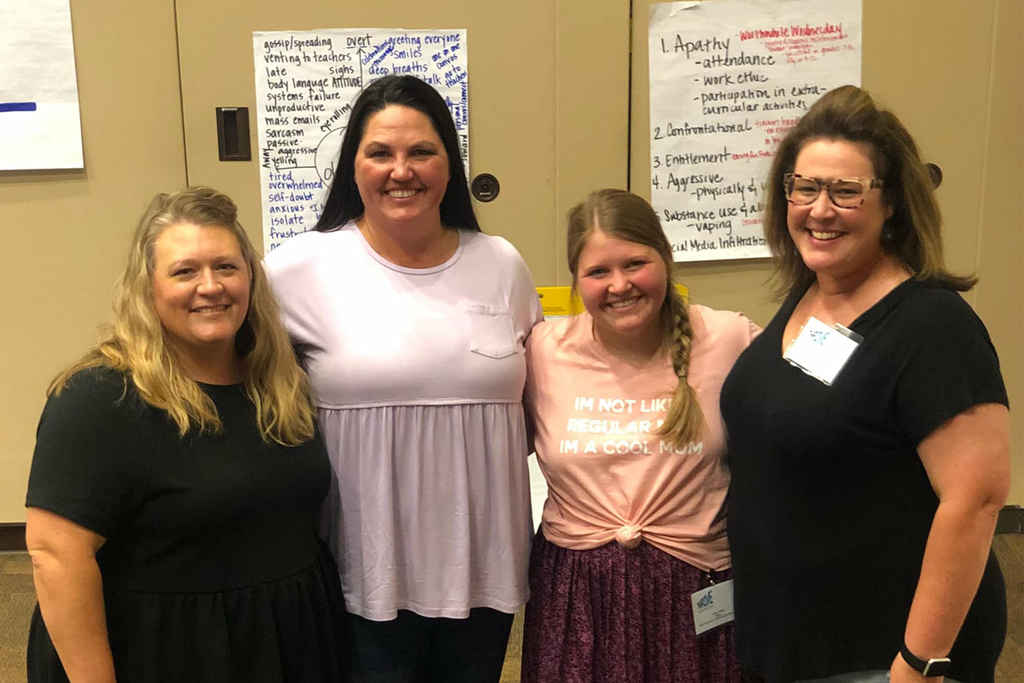 The Mena Public Schools are pleased to welcome GEORGIA WEIL to our staff ! My name is Georgia Weil and I'm excited to be teaching 3rd grade Math and Science this year! I was born and raised in Texas where I have been teaching for 15 years. I graduated college from Tarleton State University with a Bachelor of Science in Animal Production. I am married with two daughters, Collins who is 11 and Caden who is 5. We also have Great Dane named Pippin! I love to be outdoors watching sports and fishing. I also love being with family and friends. I am so excited to be here and look forward to this school year!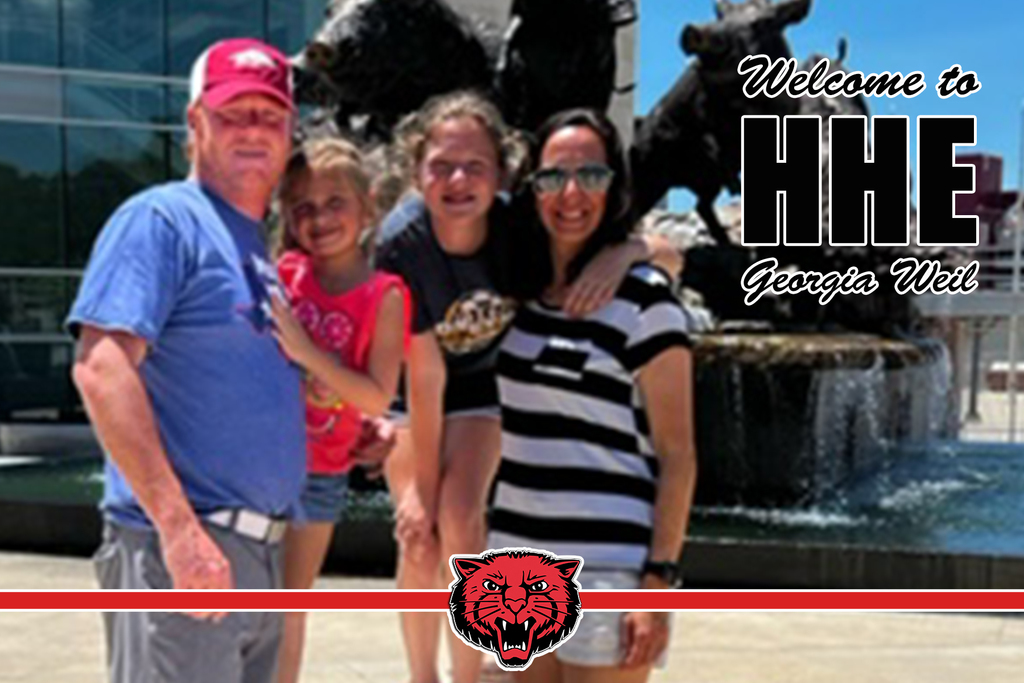 The Mena Basscats are in the hunt after day one of the High School National Championship Tournament. Jarrett Burger & Austin Rose weighed in a three fish limit that weighed in at 8 pounds 4 ounces. The tournament is at Lake Pickwick in Alabama & continues on Thursday & Friday. You can check the standings at the link below.
https://highschoolfishing.org/.../2022-HSFWF-Day-1
... The event is filmed for national television on the Pursuit Channel and other Networks. LIVE coverage will run daily on
www.HighSchoolFishing.org
and Facebook at Student Angler Federation (SAF) - High School Fishing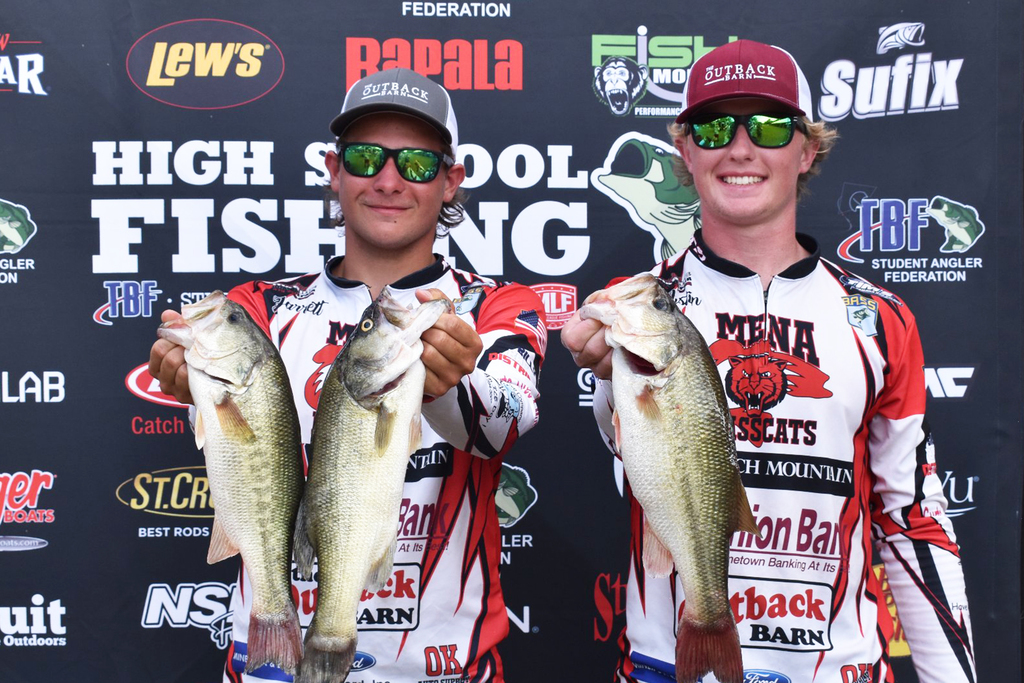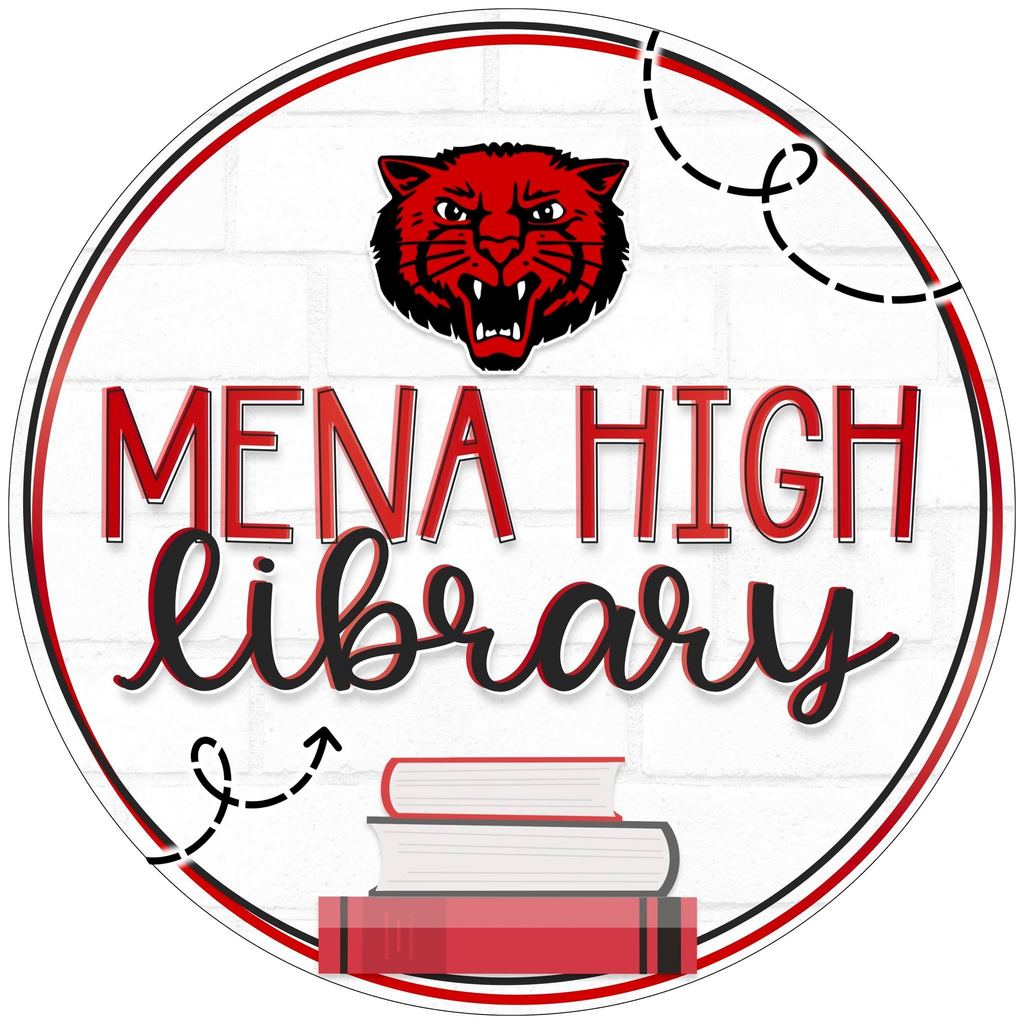 Wednesday was the first day of the Little Cats Basketball Camp at the Union Bank Center. Coach Randy Peters & the Bearcats put camper thru their paces. Those left handed layups were a challenge.. GO BEARCATS!!!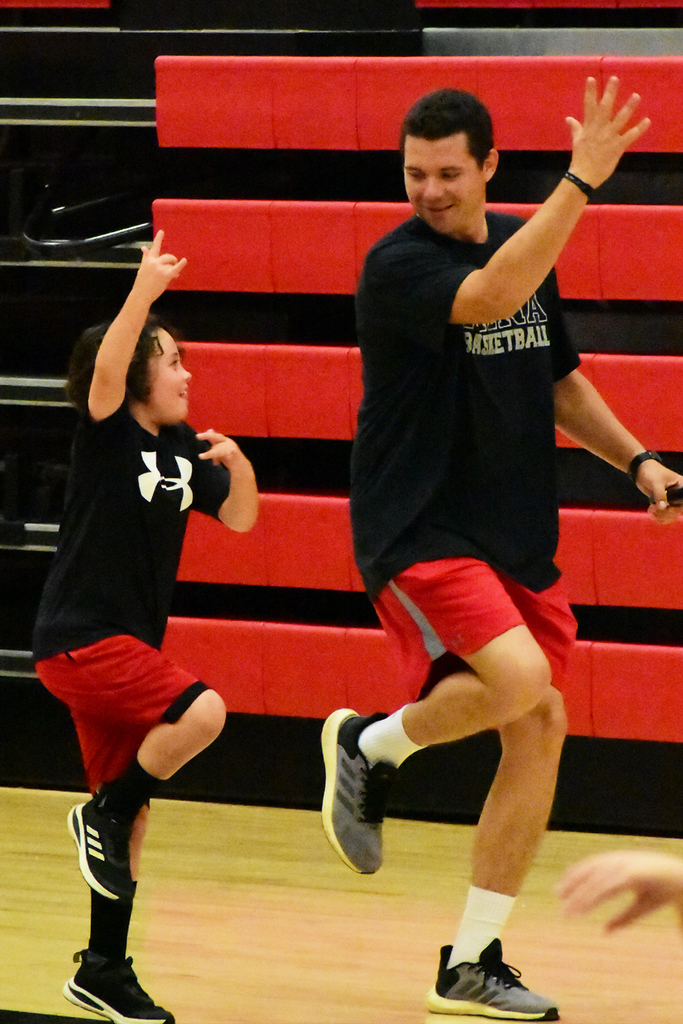 The Mena Public Schools are pleased to have ZEN VALENCIA join the staff in 2022/2023 ! Hello my name is Zen Valencia I went to high school at Hackett High school not too far from Mena. I graduated from Arkansas Tech with my Social Studies education degree. Spent a year in South West Arkansas coaching and Teaching at Lafayette County. This is my first year coaching Wrestling but I cannot express how excited I am to start this program. I am also an assistant football coach with the senior high football team, and Defensive Coordinator for the junior high. I Love being outdoors and am truly blessed to be apart of this district, community, and group of coaches! Go Bearcats!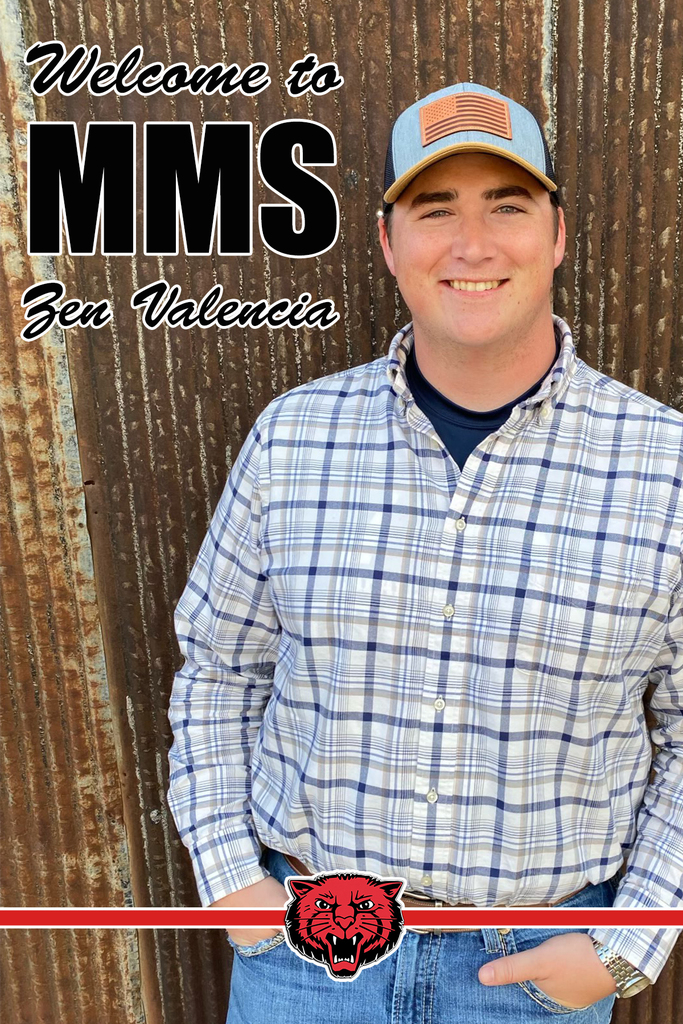 The History of Mena Public Schools Part 4: During the school years of 1907-1920 many changes were taking place in the history of education in Arkansas. The Uniform Text Book Law and the Compulsory School Attendance Law were passed by the Arkansas Legislature. Also measures for the protection of the health of small children were passed and the public drinking cup was banned. Compulsory vaccinations against smallpox was instituted. Another great step forward was the coming of the Free Textbook Law. Some of the money raising projects carried out to provide for the needs of the school included teas and plays. With the funds thus obtained many things were bought. Among these were a large Victrola for music appreciation, a suitable and large library for the children, a number of appropriate pictures by master artists, a large school bell, and a first aid cabinet. The community's educational needs had increased so greatly that in 1922 the Central and High School buildings were added on to and a manual training building was erected. Furthermore, in the 1932-33 school year a model college for the home economics department was provided. Mr. J. E. Bishop, Superintendent of Mena Schools, said he had a faculty of twenty teachers as good as the best in the state. In 1926 the rating of the schools was raised from a "B" to an "A". In 1927 the high school became a member of the North Central Association of Colleges and Secondary Schools. This was as high a rating as any school in Arkansas could achieve at the time. In 1934 school census showed 1,103 pupils attending the Mena Schools. All the pupils walked to school in those days. For many years about one fourth of the children brought their lunches to school in a sack or lunch pail. The rest of the pupils walked home for lunch. When the Junior High School was started they built a cafeteria for all the schools in Mena. Central pupils were transported by buses down there to eat every day. The transportation of Mena students by bus increased as consolidation proceeded in the county. Each time one of the outlying schools closed and sent its students to Mena, a new bus had to be added to the school's growing fleet. By now each classroom had its own library in the room. In 1940 the Mena High School and its contents were destroyed by fire. Shortly thereafter a new high school was constructed on the corner of Mena Street and Church Avenue. In the spring of 1940, plans were made for a lighted athletic field. In the fall Mena defeated Hartford 27 to 12 in the first game to be played on the newly lighted field. The new high school was used for the first time in April 1943. On May 20, 1943, thirty-one seniors graduated.The Boyd Stadium was constructed on the athletic field in 1946. In 1947 a $40,000 bond issue for a new Southside School to be built in Stilwell Park was secured. This new building was scheduled for completion in the fall of 1948. The years 1950-1951 were busy building years for the district. A new home economics cottage was built, a band building was erected, remodeling took place for grades 6-8, and buildings acquired from the Fair Association were remodeled for vocational agriculture classes and shops. Check back for part 5 next Wednesday!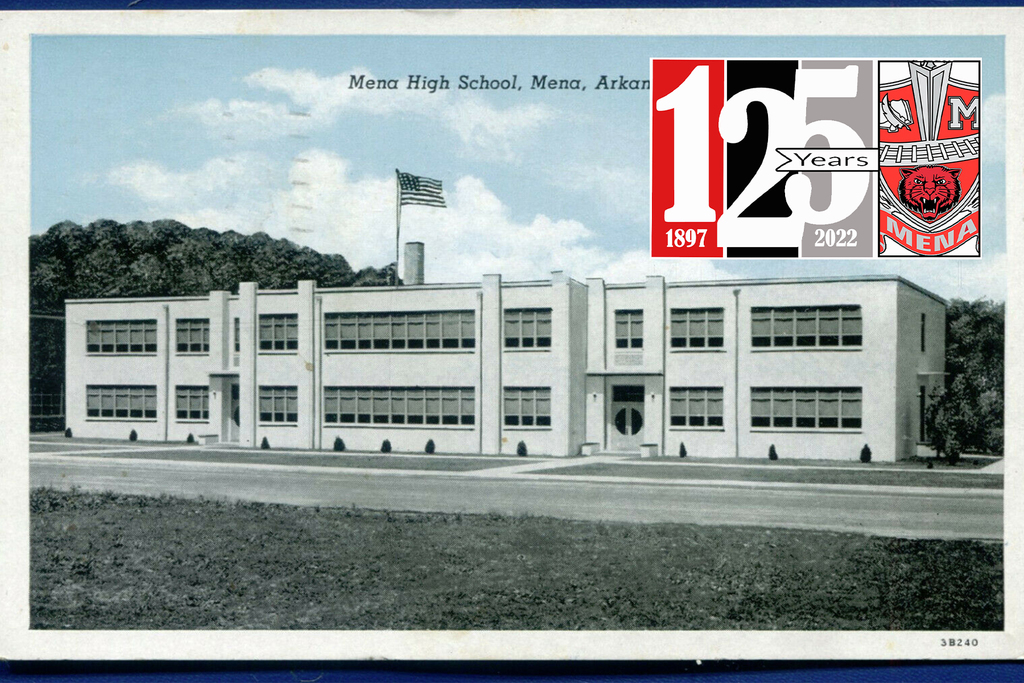 Mena High School 2022 graduates Jarrett Burger & Austin Rose are competing in the High School National Championship at Lake Pickwick in Alabama. The event is filmed for national television on the Pursuit Channel and other Networks. LIVE coverage will run daily on
www.HighSchoolFishing.org
and Facebook at
www.facebook.com/hsfishing
Good Luck Austin and Jarrett!! Go Basscats!!!!